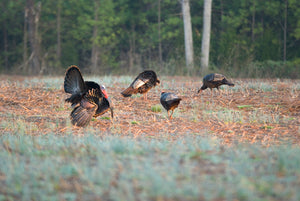 4 Best Turkey Calls

1. The Strut Buster
These calls are handmade by Steve Reeves, owner of Supreme Turkey Calls. According to some, Reeves is known as the Michelangelo of turkey calls. The Strut Buster is one of Supreme Turkey Calls top sellers year after year. This call is high-pitched and raspy, created out of a Purpleheart body with a crystal surface and slate back.
2. Wicked Series Friction Call
This whole series of call is made by Zink Calls. What makes these calls truly unique is the core of the design. The Brazilian cherry pan of the call has been impregnated with acrylics, turning the call weatherproof. As opposed to some other friction calls out there, this call has a built-in sweet spot and a rubber grip ring.

3. Tucks Cherry Long Box Call
Tucks Game Calls have been featured in national magazines, as well as television shows, for good reason. These calls are American classics and sound amazing right out of the box. Tucks cherry long box call has a finish that only gets better with age and the cherry finish darkens with exposure to sunlight.
4. The Hook Up
Primos is famous for their game calls. The Hook Up may have taken their fame to a new level by creating a box call that is incredibly innovative and easy to use. Instead of a traditional screw, the Hook Up uses a magnet that holds the paddle at the perfect angle to make a variety of calls. This call can also produce very life-like gobbles as well.
---